Senator Carl Levin spoke on the Senate floor this morning and warned of the ticking clock, saying that the only way this Defense bill and DADT repeal will happen is if the vote happens now.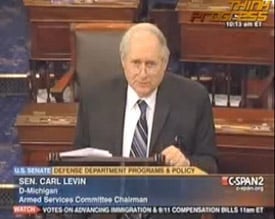 Said Levin: "Even if we get 60 votes today to invoke cloture on the motion to proceed to this bill and even if we're able to consider amendments and pass this bill in a few days, it will be a possibly insurmountable challenge to work out all of the differences with the House. Over the last 10 years, madam President, it has taken an average of 75 days to conference the defense authorization bill with the House, after we passed it. If we don't proceed with this bill, this week, then involving cloture sometime next week, even if we could do it would be a symbolic victory and I don't believe there would be enough time to hammer out a final bill before the end of the session."
Levin also talks of making DADT repeal 'real', "assuming we keep it in the bill."
Watch, AFTER THE JUMP…
To follow news on 'DADT', check out our HUB. And "LIKE" it to follow updates on Facebook.