Mecklenburg County (NC)  Commissioner Bill James is standing by remarks he made in an email to colleagues following the Senate's vote approving repeal of the military's "Don't Ask, Don't Tell" policy, in which he said "Homosexuals are sexual predators."
Reports the Charlotte Observer: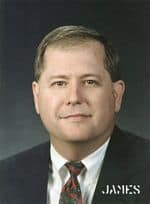 "People are entitled to their opinion, and that includes me," James said Thursday. "I don't expect people to (always) agree with me. It's a political discussion and I wouldn't have raised it on my own, but Jennifer (Roberts) decided to wade in on it."
The County Commission chair expressed reluctance about punishing James for the comments, even though James has bashed gays before:
But Jennifer Roberts, chair of the Mecklenburg Board of County Commissioners, said Thursday she hasn't talked to commissioners about what action, if any, the board should take.
"The challenge is everyone recognizes that it's inappropriate language," Roberts said. "This is a repeat performance and I just don't know if it helps or hurts the end goal by making any kind of formal statement."
In related news, James has also sent out a letter saying that gays prey on young men at YMCAs.
The next question is, when will we see James in a Larry Craig or George Rekers situation? Travelers, keep your eyes peeled.