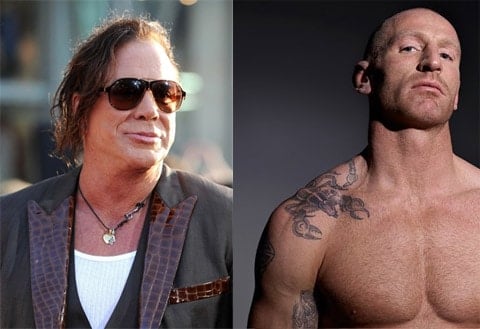 In July I mentioned that Mickey Rourke had met with gay rugby legend Gareth Thomas in hopes of playing the athlete in a biopic. Rourke discussed it on Alan Carr's UK talk show Chatty Man last night.
Transcript via Bleeding Cool: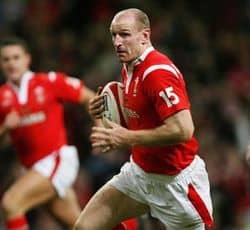 Carr: Is it true you're about to play a gay rugby player?
Rourke: You're not supposed to say that, okay? Here's the deal. When I met the rugby player, Gareth Thomas, this is one thing that he and I talked about. This is something that's really important. We're doing a movie about a man who plays rugby who is gay.
Carr: Oh, I see. Sorry, I shouldn't be so homophobic.
Rourke: That's the point though.
Carr: Labels.
Rourke: Abso-fucking-lutely. I read the story. it's one of the tougest, hardest sports in the world to play. They play with no pads. They play… it's a really brutal sport. To be a man who plays rugby who is gay and to live with that secret for the amount of years that Gareth had, to perform at the high level that he performed at, it takes a lot of courage.
Carr: Are you going to learn the Welsh?
Rourke: I have no choice.
Back in July, Wales on Sunday reported:
"The actor got in touch with the Crusaders star after reading about his life story and deciding he was 'the perfect model' for a film, the player's management have revealed. The managers of both The Wrestler star and the Bridgend-born 35-year-old are now trying to thrash out a deal to get a movie of the life of Wales' most-capped international onto the big screen. The pair met for the first time last week at the filming of Jonathan Ross' last BBC chat show, where Rourke was a guest. A spokesman for Thomas' management company told Wales on Sunday: 'Mickey Rourke is a big rugby fan and was flying to New York from London recently when he read an article about Gareth and thought he would be the perfect model for a film.  Mickey contacted Gareth directly via a mutual friend in rugby league to express his interest and invited Gareth to watch the Jonathan Ross show and to meet him for dinner afterwards.' Oscar-nominated actor Rourke, 57 – who is a trained boxer – is believed to have been keen to do a film about rugby for some time. But before discovering Thomas' story he was not sure about how to find an angle for the project."