The Anoka-Hennepin School District, Minnesota's largest school district, has seen six students take their lives over the past year and a half. One of them was 15-year-old Justin Aaberg who, according to his friends, took his life after being bullied in school. The school district has recently completed an "investigation" into teenage bullying and concluded that bullying was not responsible for any of the suicides in their district.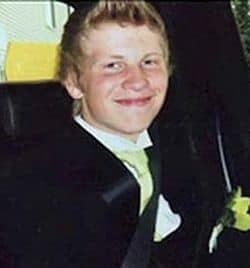 Said Superintendent Dennis Carlson in an official statement: "As we all try to heal from the pain of these deaths, the continuation of inaccurate information is not helpful," Carlson said in his message. "Once again, we have no evidence that bullying played a role in any of our student deaths."
As Minnesota Public Radio points out, "District officials didn't conduct a formal investigation into the student suicides, but to figure out why six students took their own lives, they had a series of conversations among district officials, as well as with parents and others who knew the students."
Justin's mother thinks the school's so-called investigation is a total crock.
According to Minnesota Public Radio, "The district's conclusion doesn't sit well with Tammy Aaberg. Her son Justin, who was gay, killed himself this past summer. She said she can't say for sure that an act of bullying caused Justin to hang himself. 'I don't know what the last thing was to drove him over the edge,' she said. 'I don't have proof of his last day.'"
"But Aaberg said that's less important than the fact that she's knows Justin was bullied and the district, she feels, isn't an inviting place for some students. 'So many kids have come to me on Facebook that aren't even in the district anymore that have dropped out or are in alternative schools — that have been bullied and they didn't do anything,' she said."
"Since her son's death, Aaberg has pushed the district for policies she says would make schools more welcoming for all students. The claim that bullying didn't cause any of the suicides was also disputed this week by a teen who told school board members that his friend, one of the suicide victims, killed herself because she'd been bullied so much. District officials are now looking into that claim."
In 2009, two Anoka-Hennepin School District teachers were ordered to go on leave after harrassing a gay teenager.