I've posted about Missouri Highway Patrol trooper Dennis Engelhard, and his partner's fight for survivor benefits following Engelhard's death on Christmas Day last year.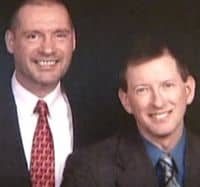 FOX St. Louis reported at the time: 
"Kelly Glossip says he and Engelhard were together for nearly 15 years. Yet, he says he's being ignored when it comes to the agencies who normally reach out to the families of fallen law enforcement officers. 'He was my true love and he always referred to me as his one and only true love and the man of his dreams,' Glossip said. … Engelhard was killed on Christmas day while waiting with the driver of a disabled car for a tow truck. He got out of his vehicle and was hit by a passing SUV. It happened on Interstate 44 in Eureka. Glossip now feels he's been left out in the cold when it comes to financial benefits normally paid to the families of officers killed in the line of duty. He says he has not been contacted by any of the groups that normally offer those benefits…"
Well, Glossip still hasn't seen any benefits but today a stretch of Interstate 44 in Franklin County will be dedicated today to Engelhard.
Writes the Riverfront Times: "So, in light of today's highway dedication, let's get this straight: Missouri considers Engelhard enough of a hero to name a road after him while continuing to deny his loved ones their rightful benefits because we do not approve of his sexuality?"
Yup.