USA Today reports: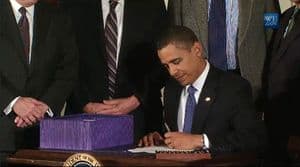 While the schedule is still being finalized, Gibbs also said he expects a formal White House signing ceremony on Wednesday morning to sign the "Don't Ask, Don't Tell" repeal.
"I think there are a lot of people who are interested in attending," Gibbs said. 
In the meantime, Gibbs said, White House and Pentagon lawyers are working on "implementation and legal issues" associated with lifting the ban on gays in the military.
As the Senate voted Saturday to end "Don't Ask, Don't Tell," Obama praised members for "ending a policy that undermines our national security while violating the very ideals that our brave men and women in uniform risk their lives to defend."