In eight minutes we learn only that he loved Spider-Man as a 5 year-old and that Tobey Maguire gave his blessing for him to take over (though they've never met). He also didn't write an acceptance speech for the upcoming Golden Globes. But that's okay because he's not going to win (see the next bullet point).
Andrew is a little more effusive in this interview with Capital FM where he talks about wearing the Spider-Man suit.
"I shed a tear when I first wore the spandex. I didn't think that the spandex would make me so emotional, but it did."

Christian Bale will be hogging all the gold statues for his totally brilliant performance as a retired boxer/crack addict. Have you seen The Fighter yet?

This coming summer Pixar gets postage stamps celebrating their beloved characters from WALL•E, Cars, Ratatouille, Up and Toy Story. I thought you had to be more aged to receive your own stamps? Perhaps that only applies to flesh and blood characters and not pixellated ones.

Clint Eastwood has cast more stars for his upcoming J Edgar Hoover biopic including, probably, Charlize Theron and Dame Judi Dench. (I almost typed Dame Edna. What's wrong with me? One doesn't suspect Clint would go for Dame Edna even though Hoover was a rumored crossdresser.) There's no word yet on which role Dench would play but the film stars Leonardo DiCaprio as the famously closeted FBI director and Armie Hammer (The Social Network's Winklevoss twins) as his lover and star employee. It's now retitled J. Edgar.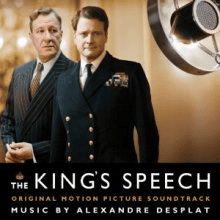 Here's an amusing bit about Oscar hopeful The King's Speech: Is it really just another Karate Kid remake?

Do you ever listen to soundtracks? The Academy has already declared a few major Oscar hopefuls like True Grit and Black Swan ineligible for their Original Score honor and now we know that Toy Story 3 won't be nominated either. The full list of 77 eligible scores is a thinner field than usual which might prepare the way for Oscar to get a little more experimental in what they choose; Could rock god Trent Reznor actually become an Oscar nominee for his thumping Social Network score? Or Perhaps it'll just clear the way for an Alexandre Desplat win? He's a likely nominee for The King's Speech (though his work on The Ghost Writer is even better) so if he can get around Hans Zimmer's big Edith Piaf flavored Inception score, he may be golden. Desplat is the movie's busiest composer now but I recently had a chat with him and he even let me know how he picks which scores go on his Oscar ballot.