Seriously, what was with putting Stanford and Anthony together? Worse yet, since they're the only flag-bearing gays in the Sex & The City world, their "open marriage" (distressing to our girls, who were always more prudish than the show's detractors claim)  essentially reinforces all the ol' tired "gays can't be monogamous arguments. More importantly, it totally spoils all those "which Sex & the City/Golden Girls character are you?" debates and online quizzes by implying that all gay men are Blanche/Samantha. If you fancy yourself a Carrie or a Charlotte or a Miranda, you will certainly object.
 In fairness, the  "Hate at First Sight Actually Means You'll Fall in Love" trope is very common in romantic comedies, if decidedly less so in life, so there's no reason that Sex… shouldn't employ it. But if this story decision was meant to be a long arc joke it just didn't pay off.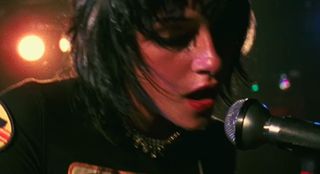 TOP TEN LGBT MOVIE CHARACTERS OF 2010
 
10. "Joan Jett" in THE RUNAWAYS
This 70s bio of pre Go-Gos grrrl rockers focused on "ch-ch-ch-ch-ch-cherry bomb" Dakota Fanning, but Kristen Stewart gave her best performance just off center as the iconic musician. Robbed of her usual mannerisms (was it the wig that freed her?) Stewart turned her familiar solemn pout into a rock chick snarl and captured Jett's sapphic rebel energy at its earliest stage. Whether Jett was urinating on guitars, commanding the stage or putting the moves on bandmates, Kristen didn't give a damn about her bad reputation.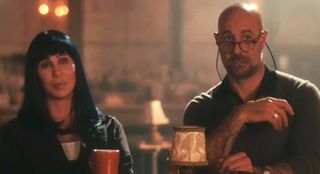 09 "Sean" in BURLESQUE
Stanley Tucci may have just been in Burlesque (review) to remind Cher of how fierce she is. Just like he was there in The Devil Wears Prada to remind Meryl as Miranda Priestley how fierce she was. And just like he was there in Julie & Julia to remind Meryl as Julia how fierce she was. But he's good at the role, you must admit. At least Sean escapes the confines of this Tucci-perfected role and diva-adjacent relationship just long enough to have some obviously successful sexcapades with a hot young stud. Nigel would be so jealous.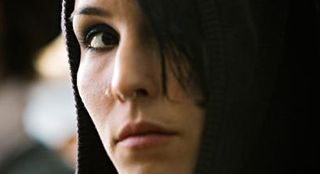 08  "Lisbeth Salander" in THE GIRL WITH THE DRAGON TATTOO
The appeal of the Millenium Trilogy, those massive bestsellers about an antisocial computer hacker (Lisbeth) and an investigative reporter on the trail of serial killers is largely lost on me. But I couldn't not include it, given that you see people reading these books everywhere, David Fincher (The Social Network) is remaking it as we speak, it inspired a hilarious New Yorker spoof and it was the single biggest subtitled hit at the box office (and even more successful elsewhere). The Swedish film  didn't make any fuss at all over Lisbeth's fluid sexuality which is as it should be. Not that you could label Lisbeth that easily anyway. The appeal of the character may lie completely in her unknowability. Even Noomi Rapace's much lauded performance played with the idea of her impenetrable psyche.
07 "Miguel" in UNDERTOW
In this moving Peruvian drama, an Oscar submission for Best Foreign Language Film, Miguel is in love with another man. There are several problems: he's married, his wife is pregnant, they live in a deeply religious village and a tragedy will turn Miguel's life upside down. Here's my interview with the director.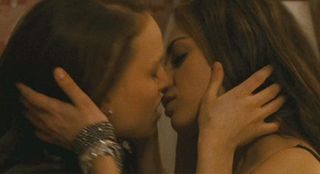 06 "Nina Sayers" in BLACK SWAN
The Women's Film Critics Circle just gave Black Swan the dubious honor of "Worst Female Images in a Movie" in their year end awardage. It's true that Nina (Natalie Portman), the high-strung ballerina, is no role model. She won't be recording an "It Gets Better" video anytime soon; for Nina things only get worse. But she's still a fascinating character and her confusing unformed sexuality even moreso. Does she want to sleep with Thomas (Vincent Cassel) or does the very thought repulse her? Probably both. Is she a virgin or just sexually anorexic? Are her feverish lesbian impulses actual sexual urges or psychotic narcissism? The film has plenty of the latter since it loves to play with the doppelganger effect and even when there are no literal mirrors in any given scene to show Nina to Nina, we always seem to be seeing her figurative reflections.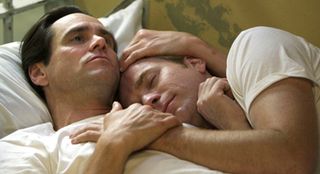 05 "Steven & Phillip" in I LOVE YOU PHILLIP MORRIS
We just discussed this oddity (review) but whether or not its sometimes tasteless humor works for you and whether or not you cringe at the impossible to ignore 'Gay Life is Expensive!' plot force, it's tough not to admire the crazy sweetness and genuine affection Jim Carrey and Ewan McGregor are conveying for each other in this love story between two convicts. They're on different paths, one is reformed,  the other not so much, but their hearts are entwined.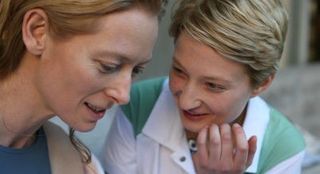 04 (tie) "Betta" in I AM LOVE and "Jesse" in LA MISSION
One could arge that Betta (Alba Rohrwacher) in I Am Love, who finds love with another woman while at college, or Jesse (Jeremey Ray Valdez) in La Mission (review), a high schooler who carries on with a rich college boy, are not fully fleshed out characters. The leads of their movies are actually their parents,  Emma (Tilda Swinton) and Che (Benjamin Bratt) respectively. But in both cases the brave teenager's coming out proves a positive emotional catalyst for the parent, though their initial reactions are quite opposite. We used to get a lot of movies about the coming out process and it's a mark of progress that we're now getting stories about new awakenings in the parents of gay children. It's mirroring what happens in real life. First you come out of the closet, then your family has to start the coming out process all over again, albeit in a different way.
03 "Nic & Jules" in THE KIDS ARE ALL RIGHT
Annette Bening and Julianne Moore made such an awesome (married) team in Lisa Cholodenko's dramedy, that the movie has been richly discussed all year. The particulars were so very particular (sperm donor, gay porn, impulsive affairs, gay marriage that's only missing the paperwork, that emotional summer before college) that people are still arguing about it. Expect the conversation to continue once Oscar nominations hit next year. It's looking strong for Best Actress and Screenplay nominations. Will it be nominated for Best Picture? [Towleroad interview with Lisa Cholodenko.]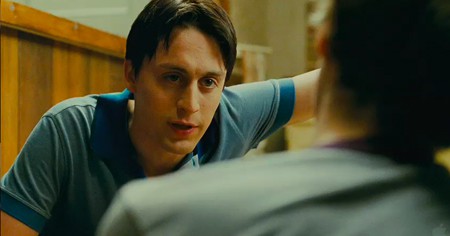 02 "Wallace Welles" in SCOTT PILGRIM VS. THE WORLD
When the movie was first announced, it seemed obvious that the character they'd screw up in a film version of the geek-beloved comic was Wally, the hero's best friend and roommate. Only they didn't. Wallace (played by Keiran Culkin) still sleeps in the same bed with Scott Pilgrim (not a big deal, but a funny visual), still is always one step ahead of Scott, and still flirts shamelessly with boys. He came to the screen with so much wit and confidence that while you could describe him reductively as just "the gay roommate" as I did in my review right here -oops – and leave it at that, but that'd be doing him a great disservice. He's the coolest character in the film. At least call him the "cool gay roommate" as they do in the source material.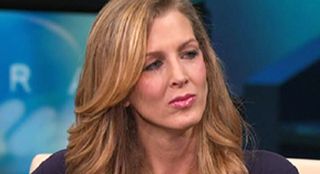 01 "Kimberly Reed" in PRODIGAL SONS
Prodigal Sons first began the festival circuit in the summer of 2008 but it won theatrical release and even an Oprah episode in February of 2010 and is now on DVD. It's one of the very best films of the year, whichever year it belongs to. The film begins as a personal diary/essay about a homecoming. Paul, a high school football hero, left Montana years ago and is returning as Kimberly.  Unlike most documentaries which have very clear agendas, Reed allows her own story to grow organically as it plays and she loses much of the star focus to her adopted brother and the tensions and relationships within her family. The movie, to its great credit, becomes less and less of a vanity project and more and more a spectacular study of identity politics and family. The director and star is a gorgeous articulate transgendered woman with a very specific story to tell but this is a movie that everyone should see, no matter how they self-identify.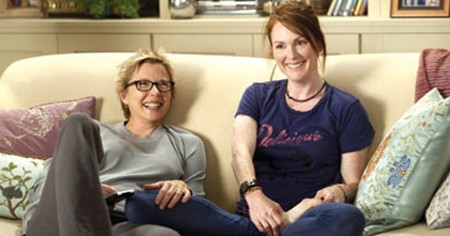 No wonder they're smiling. The Kids Are All Right won 4 Golden Globe nominations.

…lives for the the tail end of each year. That's when Oscar buzz wags the film dog. He blogs daily at the Film Experience. Follow him on Twitter @nathanielr.

YEAR IN REVIEW
With 2010 about to wrap, let's do a top ten list albeit a very specific one. Let's make like Barbara Walters and choose The Most Fascinating (Fictional, LGBT) People. Barbara obviously uses a different criteria than "fascinating" in her annual roundup. Hers  seems closer to "constantly in the news /has overworked publicist"  and our choices are also debatable. The ranking is somewhat arbitrary. It's a glorified excuse to talk about people, in this case the LGBT characters who were on movie screens in 2010. So let's get to it.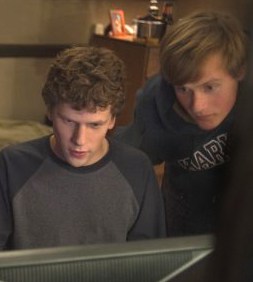 The Invisible Man
This following list is dedicated to the openly gay "Chris Hughes" in THE SOCIAL NETWORK (review), portrayed by Patrick Mapel (pictured left with Jesse Eisenberg as Mark Zuckerberg in the movie). Because this excellent movie chooses to focus so tightly on its intellectual property lawsuits, fraternity "punch" lust, and that central squabbling sextet of Ivy League straight boys (Zuckerberg, Saverin, Narendra, Parker, and "the Winklevii"), it apparently didn't have much room for diversity; the women and the gays involved in the Facebook story don't get much attention.
The Lady Doth Protest Too Much
The list is also dedicated to Ken from TOY STORY 3 (review) who would like to remind you that he is not a girl's toy.
Dishonorable Mention ~ The Odd Couple
While Sex & The City 2 (review) was not a "good" film by any standard definition, the reviews were so rabid and demented that you'd think loving shoes was the worst of all moral failings and having a vagina was cause for auto-scorn. Please note that movies about wealthy men displaying, boasting of, indulging in, talking about or fighting over their personal billions   — Inception, Iron Man 2, Wall Street Money Never Sleeps, The Social Network and more still — never have critics screaming "Out of touch! Tasteless! Insensitive in this economy!"  but show us four women who refuse to fly coach…
Lost in the uproar was its tone deaf and über obnoxious gay wedding.
MORE AFTER THE JUMP…