Utah Senate president wants to repeal the state's LGBT anti-discrimination laws.

Car crashes on to George W. Bush's lawn in Dallas: "Though officials initially classified the incident as an "executive threat" that summoned the attention of more than a dozen police cars, police and Secret Service officers concluded that the crash was accidental."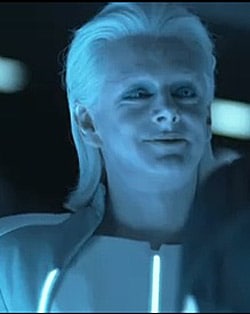 One of many disappointing elements of Tron: Legacy. "At a moment when people around the country are celebrating the repeal of Don't Ask Don't Tell, the film also serves as a poignant reminder that the gays who remain the most marginalized may not be the ones who are "butch" enough to serve but the ones who aren't."

Watch: Antoine Dodson performs holiday song "Chimney Intruder".

David Mixner on yesterday's 'DADT' signing.

Parents of Tyler Clementi to sue Rutgers: "Joseph and Jane Clementi, parents of Tyler Clementi, filed notice Friday. They must wait six months to file the lawsuit over their son's Sept. 22 death, which became the rallying point of a national outcry over the bullying of gay people."

Zac Efron's buzz cut.

Chart: The rise an fall and rise of "gay".

Enrique Iglesias releases sexually provocative video.

In the wake of defeat of Pennsylvania anti-discrimination bill, towns are doing it on their own: "Allegheny County state Rep. Dan Frankel's bill attracted a record 71 co-sponsors, including two Republicans, and even passed narrowly out of the State Government Committee. But it again died at the end of the most recent legislative session. Some local municipalities and counties are acting in the absence of legislative action. So far 18 have passed their own local human relations ordinances, and about a dozen are actively considering it."

Jamaica: Student flees dorm after students spread video in which he says he's gay. "The tape, which made its rounds on the campus in late November into early December, was about 30 minutes long and involved the student sharing deep secrets and fantasies with the boy he thought was his new-found friend."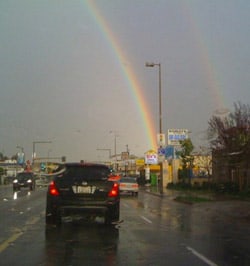 Twitter goes nuts for L.A.'s double rainbow.

WATCH: Trailer featuring Colin Farrell and Jim Sturgess in The Way Back.

London, Ontario community backtracks on censorship of gay art.

Jersey Shore's Ronnie gets a doctor's exam.

Will Catholics rejoice the repeal of 'DADT'? "The fact that the gay and lesbian soldiers who were willing to give their lives for their country were unable even to admit their presence within the military, seems about as far as you can get from any reasonable definition of 'respect,' to quote the Catechism.  How respectful is it to say to someone: 'You cannot say that you are here with us.') Much less it is treating them with 'sensitivity and compassion.'  How compassionate is it to tell a soldier: 'Feel free to sacrifice your life; just don't expect us to admit that you're here'?"