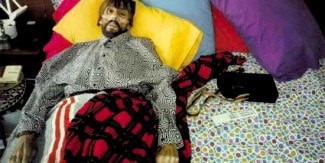 AA Bronson, an artist whose work appears in the National Portrait Gallery's Hide/Seek exhibit (which recently censored a David Wojnarowicz video piece from its show over conservative complaints that the work constituted 'hate speech'), tells Modern Art Notes that he asked the NPG to remove his work from the show.
"My piece in the show, the Felix portrait, is built around the same subject matter as the Wojnarowicz. I realized that just from a position of solidarity with an artist who's not here to defend himself I had no choice but to withdraw the piece from the show. I was hoping for reconciliation and I was trying to hold back from doing anything too extreme. I haven't seen the exhibition but I've heard how wonderful and groundbreaking it is. I value that, but on a personal level I can't support what's happened at the Smithsonian, which I feel as also a personal affront to edit out that aspect of queer history. I can't stand for that. So I made the decision to withdraw the work based on that."
The museum is refusing to do so, Tyler Green reports:
"The Smithsonian and the Portrait Gallery are committed to keeping all of the works currently in the exhibition on view through February 13," Bentley said. "We will adhere to the loan agreement."
I asked Bentley if the NPG would decline to remove the piece even if the National Gallery of Canada asked for it.
"The loan agreement is a legally binding document," Bentley said. "So yes."
The Warhol Foundation recently wrote the Smithsonian and threatened to cut off hundreds of thousands of dollars in future donations if the NPG did not restore Wojnarowicz's video work to the exhibit.