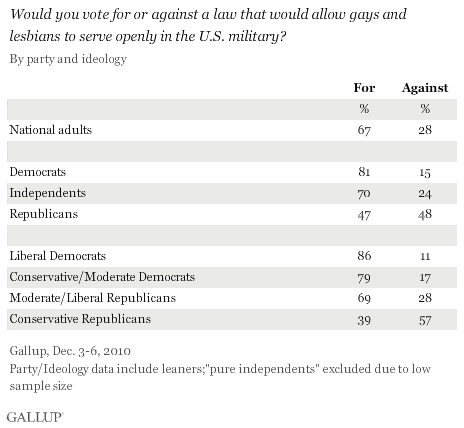 New numbers from a Gallup poll released today are consistent with previous findings that a large majority of Americans support repeal of the military's "Don't Ask, Don't Tell" policy:
"If they had an opportunity to vote on it, 67% of Americans say they would vote for a law that would allow gays and lesbians to serve openly in the U.S. military…Senate Majority Leader Harry Reid (D-Nev.) could yet call a vote on the issue, after he pushed back a vote Wednesday night on the defense authorization bill that includes repeal. The delay came at the request of lawmakers who wanted more time to debate and secure the 60-vote majority necessary to block a Republican filibuster. Rank-and-file Republicans currently are evenly divided on the issue, with the most opposition coming from conservative Republicans. Large majorities of Democrats, independents, and moderate and liberal Republicans are in favor."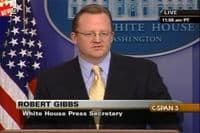 White House Press Secretary Robert Gibbs spoke out again on the issue today at his press briefing:
"The president strongly believes that one of two things are going to happen: Either Congress is going to decide this legislatively, or the courts are going to decide this. And, uh, the policy is going to come to an end. Congress has to ask themselves how they want to end this — what role they want to play in ensuring that it's done in an orderly way."
To follow news on 'DADT', check out our HUB. And "LIKE" it to follow updates on Facebook.