Now that he's running for Mayor of Chicago.
Windy City Media interviews Emanuel: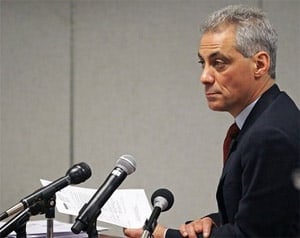 I'm loyal to President Clinton. I'm loyal to President Obama. What my advice was… I don't need to get into what I personally advised them or what my own sympathies were.
I believe that legislation should be repealed. I believe that gays and lesbians should be allowed to get married. That's why I thought the civil unions [ are ] the right thing to do, but it's only the first step toward an ultimate goal.
If you look into my record when I was a United States congressman, I sponsored the legislation and I was clear about the legislation, and I worked with the leadership in moving legislation. What I did in the White House for the presidents is … I've got to respect the privacy [ regarding ] how I give advice.
Emanuel is currently in his third day of hearings over claims that he's not a Chicago resident.