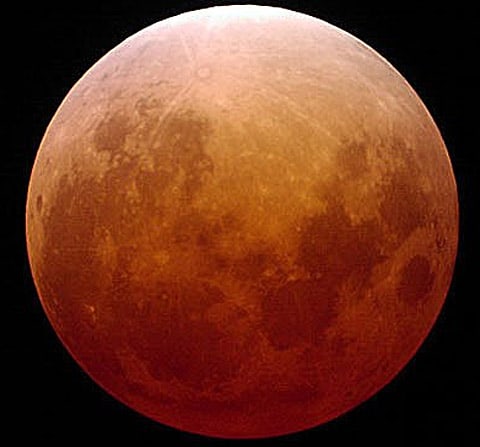 Tonight is the winter solstice, and for lucky sky viewers in North America, the chance for an amazing view of a lunar eclipse.
NASA:
For 72 minutes of eerie totality, an amber light will play across the snows of North America, throwing landscapes into an unusual state of ruddy shadow.
The eclipse begins on Tuesday morning, Dec. 21st, at 1:33 am EST (Monday, Dec. 20th, at 10:33 pm PST). At that time, Earth's shadow will appear as a dark-red bite at the edge of the lunar disk. It takes about an hour for the "bite" to expand and swallow the entire Moon. Totality commences at 02:41 am EST (11:41 pm PST) and lasts for 72 minutes.
If you're planning to dash out for only one quick look -  it is December, after all -  choose this moment: 03:17 am EST (17 minutes past midnight PST). That's when the Moon will be in deepest shadow, displaying the most fantastic shades of coppery red.
The reason the moon is red is that it's reflecting the light of every 'sunrise' and 'sunset' around the Earth's circumference as the sun is directly behind it.
A demonstration of what you'll see, AFTER THE JUMP…