Calling Hollywood a "conservative" world that "pretends to be a liberal world," Rupert Everett slams Hollywood's homophobia in a new BBC4 interview, in which he revisits a complaint he has aired several times before: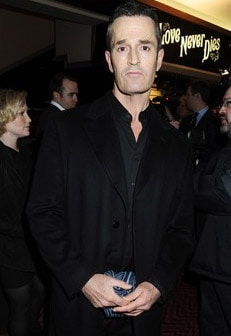 "I never got a job here, after (coming out). I did a couple of films, I was very lucky at the beginning of my career… and then, I never had another job here for ten years probably and I moved to Europe." 
Adds Everett: "Show business is ideally suited for heterosexuals, it's a very heterosexual business, it's run mostly by heterosexual men, and there's a kind of pecking order."
Everett says that straight actors are pushing gay actors out of gay roles:
"A lot of straight actors are actively searching for gay roles because it is something different to do. I think that's fine but that does mean the gay actor who used to just get to play the gay part- like me-has been reduced to drag really."
Listen, AFTER THE JUMP…
Previously…
Rupert Everett: 'I Would Not Advise Any Actor to Come Out' [tr]
Rupert Everett Wonders Why He Sits Unf**ked in His Hotel Room [tr]
Rupert Everett: Being Gay in the Movie Biz Really…Just Doesn't Work [tr]