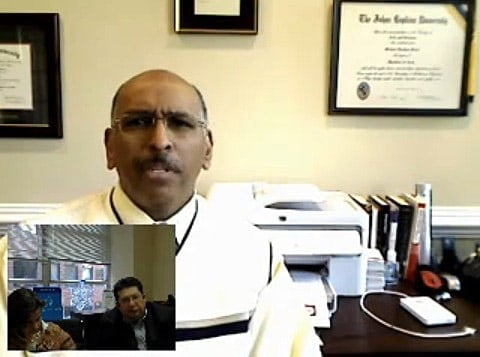 The National Organization for Marriage (NOM) posted a lengthy interview with Republican Party chair Michael Steele about his personal philosophies and the party's strategy for fighting same-sex marriage over the next two years.
Steele, who insists banning same-sex marriage around the country is not something that's "anti-gay", says the GOP will work hard at the state level to stop same-sex marriage initiatives [my transcript]:
"For us, going forward, we'll look to the leadership in Washington for any legislative or federal efforts to address the issue of marriage, between man and woman, traditional marriage. But also especially at the state level where I think the battle is really going to be fought over the next couple years, and we want to be in partnership through our state party organizations working with state legislative leadership to stand firmly and squarely behind the defense of marriage.
NOM's Frank Cannon asks Steel, "If the federal courts were to strike down the California law and discover a federal right to gay marriage, in essence, would you fully stand behind the Republican platform's call for federal marriage amendment?"
[my transcript]
Says Steele: "Oh, absolutely. Without hesitation or doubt. In fact we would partner with our leadership in the House and our governors and leadership in the state legislatures to create a very very strong front line if you will, on that issue. I can't again stress how important that is for how we will lead as a people, and how we will see ourselves as a nation. And again, that is not to the exclusion of anyone, it's not anti- anyone, or any group. It's just so fundamental and foundational, I think it needs to be protected."
Watch the full interview, AFTER THE JUMP…