Ari Ezra Waldman is a 2002 graduate of Harvard College and a 2005 graduate of Harvard Law School. After practicing in New York for five years and clerking at a federal appellate court in Washington, D.C., Ari is now on the faculty at California Western School of Law in San Diego, California. His areas of expertise are criminal law, criminal procedure, LGBT law and law and economics. Ari will be writing biweekly posts on law and various LGBT issues. 
Follow Ari on Twitter at @ariezrawaldman.
Today's vote in the Senate was nothing if not historic. It was a "where were you when" moment. I was in Los Angeles, watching the Senate live on my friend Conor's television and writing on my iPad.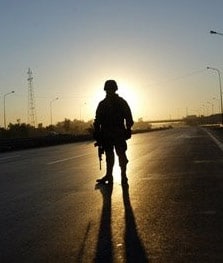 Not glamorous, but the sense of awe, happiness and inspiration that came over me when we won that 60th vote was just as real. Tell us where you were when DADT was repealed. I thought I would take this opportunity to answer a few expected questions about what this all means. If you have any questions, please ask in the comments?
QUESTION: Is DADT gone?
Not quite. This was a cloture vote, which paves the way for actual repeal votes. Assuming the Senate acts on that at 3pm Eastern (12noon Pacific), the Senate and the House will pass the identical bill, which means it can be sent to the President for his signature pretty quickly. Congress can even send it in a few hours. But even after President Obama signs repeal into law, DADT will still be with us. As you recall, the repeal bill makes an end to DADT contingent upon certification from Secrertary Gates and others before the policy will actually die away. This is to allow the military sufficient time for implementation.
QUESTION: I am a gay service member, can I come out?
The way the repeal has been written, DADT is still technically the law even after the Senate repeals and even after the President has signed the legislation. There will be an implementation period in which DADT is on its way out, but is still law of the land. That should give some of us caution about coming out. If you are concerned about this implementation period — a fair concern given the history of the military's treatment of gays in the past — use your judgment. There are policies in place that suggest that discharges may be less likely, or may not even happen. But that will be up to the DOD and the service branches. Nothing in the law right now says that you should come out.
QUESTION: I was in the Armed Services and was discharged for being gay. Can I re-enlist?
I already know of people who will try to re-enlist, and there is no logical reason why you should be turned away. I imagine that after the bill is signed, the service chiefs or the Department of Defense will issue memoranda to service recruiters saying that they should admit openly gay individuals who seek enlistment. Out of sn abundance of caution, I would wait for those explicit directives.
QUESTION: How long with the implementation period last?
There is no answer here, especially given that Secretary Gates has made it quite clear that he sees orderly implementation taking a while. I would expect at least 6 months and up to a year for full implementation of open service. That time will be needed to craft new rules on all sorts of things. Given that these new rules will affect newly open gay service members, there may be some benefit to waiting to re-enlist or waiting to enlist inn the first place until those rules are written down. Again, this advice is out of an abundance of caution.
QUESTION: What does repeal mean for the Log Cabin case that declared DADT unconstitutional?
This is a bit fuzzy. Normally, if a law that is the subject of a constitutional challenge in the federal courts is repealed during the course of that trial or appeal, the case becomes "moot". That basically means what you think it means — that there is no point to continuing the case. Federal courts require that there be an "actual case or controversy" to render an opinion and if there is no longer a law to fight about, then there is no case or controversy.
But the kicker here is that, technically, even after repeal, DADT is not yet gone. The interim implementation period — which is unique given that a full end to DADT will require certification from the secretary and others — means that there is still a law hanging around. I would imagine, however, that either a party in the case will petition for postponement or the Log Cabiners and their attorneys could make the move to withdraw their case.
I sent an email to my contacts in the case, but I have yet to hear back with any comments for public consumption. As you might imagine, litigation plans are kept closely guarded. For all intents and purposes, though, the case should become meaningless, unless Log Cabin feels that they can get a judicial end to DADT before the Defense Department fully implements repeal. That is highly unlikely.
This is an amazing day. For many of us, repeal of DADT has real and personal meaning. There are many of us who have served, many of us who are serving and many of us who would serve if we were allowed to serve openly. The sense of relief, the sense of pride, the sense of empowerment and confidence is, at least for me, overwhelming. I knew this day would come and I knew it would come in this Congress, thanks to many leaders and many factors. That includes those who brought the federal challenges to the law in court. Their efforts at chipping away at the legitimacy of the law made repeal Congess much more likely. In this holiday season, say thank you to those senators and representatives and others you think deserve our gratitude. I know who I will be thanking. Send a card, send a gift, make a call and say "thank you", do something to show that what Congress and the President did today made your life better.