Alphabetical by Senator Name
Akaka (D-HI), Yea
Alexander (R-TN), Nay
Barrasso (R-WY), Nay
Baucus (D-MT), Yea
Bayh (D-IN), Yea
Begich (D-AK), Yea
Bennet (D-CO), Yea
Bennett (R-UT), Nay
Bingaman (D-NM), Yea
Bond (R-MO), Nay
Boxer (D-CA), Yea
Brown (D-OH), Yea
Brown (R-MA), Yea
Brownback (R-KS), Nay
Bunning (R-KY), Not Voting
Burr (R-NC), Nay
Cantwell (D-WA), Yea
Cardin (D-MD), Yea
Carper (D-DE), Yea
Casey (D-PA), Yea
Chambliss (R-GA), Nay
Coburn (R-OK), Nay
Cochran (R-MS), Nay
Collins (R-ME), Yea
Conrad (D-ND), Yea
Coons (D-DE), Yea
Corker (R-TN), Nay
Cornyn (R-TX), Nay
Crapo (R-ID), Nay
DeMint (R-SC), Nay
Dodd (D-CT), Yea
Dorgan (D-ND), Yea
Durbin (D-IL), Yea
Ensign (R-NV), Nay
Enzi (R-WY), Nay
Feingold (D-WI), Yea
Feinstein (D-CA), Yea
Franken (D-MN), Yea
Gillibrand (D-NY), Yea
Graham (R-SC), Nay
Grassley (R-IA), Nay
Gregg (R-NH), Not Voting
Hagan (D-NC), Yea
Harkin (D-IA), Yea
Hatch (R-UT), Not Voting
Hutchison (R-TX), Nay
Inhofe (R-OK), Nay
Inouye (D-HI), Yea
Isakson (R-GA), Nay
Johanns (R-NE), Nay
Johnson (D-SD), Yea
Kerry (D-MA), Yea
Kirk (R-IL), Yea
Klobuchar (D-MN), Yea
Kohl (D-WI), Yea
Kyl (R-AZ), Nay
Landrieu (D-LA), Yea
Lautenberg (D-NJ), Yea
Leahy (D-VT), Yea
LeMieux (R-FL), Nay
Levin (D-MI), Yea
Lieberman (ID-CT), Yea
Lincoln (D-AR), Yea
Lugar (R-IN), Nay
Manchin (D-WV), Not Voting
McCain (R-AZ), Nay
McCaskill (D-MO), Yea
McConnell (R-KY), Nay
Menendez (D-NJ), Yea
Merkley (D-OR), Yea
Mikulski (D-MD), Yea
Murkowski (R-AK), Yea
Murray (D-WA), Yea
Nelson (D-FL), Yea
Nelson (D-NE), Yea
Pryor (D-AR), Yea
Reed (D-RI), Yea
Reid (D-NV), Yea
Risch (R-ID), Nay
Roberts (R-KS), Nay
Rockefeller (D-WV), Yea
Sanders (I-VT), Yea
Schumer (D-NY), Yea
Sessions (R-AL), Nay
Shaheen (D-NH), Yea
Shelby (R-AL), Nay
Snowe (R-ME), Yea
Specter (D-PA), Yea
Stabenow (D-MI), Yea
Tester (D-MT), Yea
Thune (R-SD), Nay
Udall (D-CO), Yea
Udall (D-NM), Yea
Vitter (R-LA), Nay
Voinovich (R-OH), Yea
Warner (D-VA), Yea
Webb (D-VA), Yea
Whitehouse (D-RI), Yea
Wicker (R-MS), Nay
Wyden (D-OR), Yea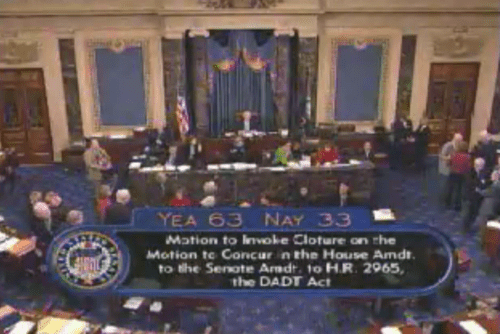 In a rare Saturday session, the Senate this morning paved the way for a repeal of "don't ask, don't tell." Today's vote of 63-33 was to invoke cloture and move forward on debate and final vote. The GOP has waived debate and the final Senate vote will happen today at 3pm EST. A simple majority vote is all that is needed to pass the legislation.
Republicans who broke off from their party by voting 'yea" were Scott Brown (MA), Susan Collins (ME), Mark Kirk (IL), Lisa Murkowski (AK), and Olympia Snowe (ME), George Voinovich (OH).
Joe Manchin (D-W. Va.) did not cast a vote.
Reaction:
Lambda Legal: "Today our country lived up to the values that lesbian, gay and bisexual servicemembers swore to defend. These members of America's armed forces have been a model of dignity and courage as they faced not only the dangers of military action, but also the unfair and discriminatory conduct of their own government. Today, the end of that era of discrimination is finally in sight."
Servicemembers United: "This vote represents an historic step forward for this country, and it will very likely be a life-changing moment for gay and lesbian troops."
Aubrey Sarvis of Servicemembers Legal Defense Network: "We owe a great deal of thanks to many Congressional leaders who got us here today — Patrick Murphy, Susan Davis, Speaker Pelosi, and House Majority Leader Hoyer.  In the Senate this would not have happened without Chairman Levin and Senators Lieberman, Mark Udall, Gillibrand, Collins and so many others.  But let me also personally thank Senate Majority Leader Harry Reid.  This is the defining civil right initiative of this decade and today's bill passage would not have been possible without Harry Reid's determined leadership.  And finally, without commitment and a clear plan from the White House for the Pentagon's Comprehensive Review Working Group, we would not stand here today."
Statement from President Obama: "Today, the Senate has taken an historic step toward ending a policy that undermines our national security while violating the very ideals that our brave men and women in uniform risk their lives to defend.  By ending "Don't Ask, Don't Tell," no longer will our nation be denied the service of thousands of patriotic Americans forced to leave the military, despite years of exemplary performance, because they happen to be gay. And no longer will many thousands more be asked to live a lie in order to serve the country they love. As Commander-in-Chief, I am also absolutely convinced that making this change will only underscore the professionalism of our troops as the best led and best trained fighting force the world has ever known.  And I join the Secretary of Defense and the Chairman of the Joint Chiefs of Staff, as well as the overwhelming majority of service members asked by the Pentagon, in knowing that we can responsibly transition to a new policy while ensuring our military strength and readiness. I want to thank Majority Leader Reid, Senators Lieberman and Collins and the countless others who have worked so hard to get this done.  It is time to close this chapter in our history.  It is time to recognize that sacrifice, valor and integrity are no more defined by sexual orientation than they are by race or gender, religion or creed.  It is time to allow gay and lesbian Americans to serve their country openly.  I urge the Senate to send this bill to my desk so that I can sign it into law."
Palm Center Director Aaron Belkin: "When President Obama signs repeal legislation, he will pave the way for the U.S. to join its NATO allies in allowing gays and lesbians to serve openly. It has long been clear that there is no evidence that lifting the ban will undermine the military, and no reason to fear the transition to inclusive policy. Research shows that moving quickly is one of the keys to a successful transition. If the President and military leadership quickly certify the end of 'don't ask, don't tell,' they will ensure an orderly transition with minimal disruption."
Dan Choi told the Miami-Herald: "It is a good time and I'm re-energized for this. I am sorry for anyone who might have been upset by my particular methods, but we all came to this together "This with the stroke of a pen doesn't make the world more fully American. It makes the books more fully American…I look forward to thanking Sen. [Harry] Reid for finally getting this done. I am grateful for the leadership of the Senate. I've been withholding praise for most of the Senate. Today there is a renewed hope for the Senate for keep doing work."
Read more:
Head over to Americablog to thank those LGBT troops who helped make today's vote happen.
Meanwhile, the Senate also voted on the DREAM Act which failed with a 55-41 vote.
Complete list of Senators and their votes, AFTER THE JUMP.