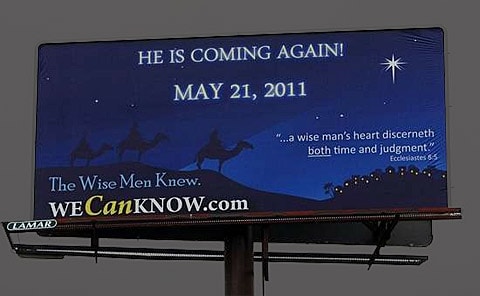 The rapture is coming on May 21, 2011, or so say more than 40 billboards around Nashville, Tennessee and eight other U.S. cities:
Fans of Family Radio Inc., a nationwide Christian network, paid for the billboards. Family Radio's founder, Harold Camping, predicted the May date for the Rapture.
Their message is simple — "He Is Coming Again" — and their aim is to get unbelievers to turn around quickly. But critics say the billboards are a waste of time, one more failed attempt to predict the end of the world. The Rapture is going to be a great day for God's people but awful for everyone else, said Allison Warden, 29, who orchestrated Nashville's billboard campaign.
Maybe somebody should tell taxpayers in Kentucky, so they money they're paying to fund a Biblical theme park with a full-size Noah's Ark won't go to waste! Tax breaks from the state for the Creationist park are expected to top $37 million.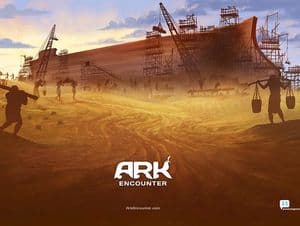 NYDN:
The park, which Kentucky expects to draw more than a million visitors each year, is projected to cost $150 million, the Louisville Courier-Journal reported.
"Make no mistake about it," Beshear said, according to the paper. "This is a huge deal."
The amusement park will include a 500-foot-long wooden replica of Noah's Ark complete with live animals, according to the project's website.
"We are constructing a full-scale, all-wood ark based on the dimensions provided in the Bible (Genesis 6), using the long cubit, and in accordance with sound established nautical engineering practices of the era," wrote Ark Encounters, one of the groups behind the project.
The ark is a collaboration between Ark Encounters LLC, a for-profit company, and a non-profit company, Answers in Genesis, which runs the Creation Museum — a museum that educates children about the Bible through interactive exhibits in Petersburg, KY.
The park also plans on having a Walled City, Tower of Babel, "first-century Middle Eastern village", a journey in history and a petting zoo.
But WILL THERE BE DINOSAURS ON THE ARK?
That was a question asked at Governor Steve Beshear's press conference for the theme park, which, unfortunately, will never come to fruition because the rapture will have happened two years prior.
This is today's America.
Watch it, AFTER THE JUMP…