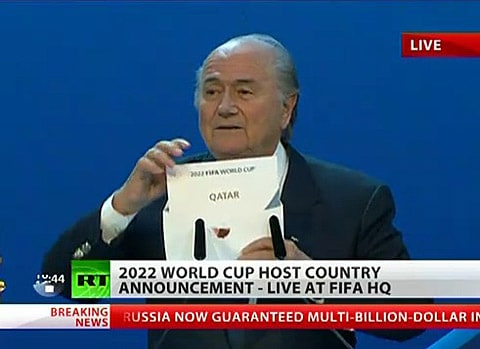 The World Cup is on its way to Russia and Qatar, after an announcement by FIFA today:
Though it promised record-breaking profits for FIFA, the U.S. bid failed to offer FIFA the sort of transformational message and chance to make history that both FIFA and the International Olympic Committee have yearned for in recent years.
FIFA chose Russia to host the 2018 World Cup.
In selecting Qatar, the tiny emirate in the heart of the Middle East, FIFA chose to bring the World Cup to a Muslim nation for the first time. A desire to make history, and the opportunity to partner with the natural gas fortune of the Qatari royal family, ultimately proved irresistible to FIFA. Qatar has promised to spend $4 billion to build nine stadiums, renovate three others and equip all of them with a high-tech, outdoor air conditioning system to combat summer temperatures that can reach 120 degrees during the day. The country has vowed to spend another $50 billion on infrastructure ahead of the tournament.
Watch the announcement, AFTER THE JUMP…