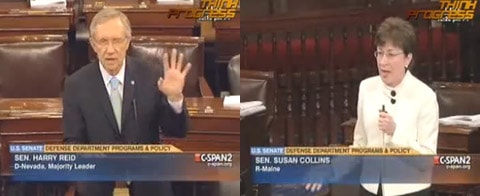 Here's a clip (via The Wonk Room) of the exchange between Senators Harry Reid (D-NV) and Susan Collins (R-ME) prior to moving to the failed vote on the Defense bill, in which they air their inability to come to terms on an agreement to vote on the measure.
Watch, AFTER THE JUMP…
Greg Sargent at the Plum Line on why Reid decided to have the vote:
Reid concluded that even if Collins was sincere in her promise to vote for repeal if given the four days of debate, there was no way to prevent the proceedings from taking longer, the aide says. Reid decided that the cloture vote, the 30 hours of required post-cloture debate, and procedural tricks mounted by conservative Senators who adamantly oppose repeal would have dragged the process on far longer.
"It would have been much more than four days," the aide says. "Her suggestions were flat out unworkable given how the Senate really operates. You can talk about four days until the cows come home. That has very little meaning for Coburn and DeMint and others who have become very skilled at grinding this place to a halt."
After spending several hours thinking it over today and consulting with other members of the Dem caucus, Reid decided to push forward with the vote today, the aide says.
***
Indeed, moderate GOPers like Scott Brown and Lisa Murkowsk, who had said they supported repeal, voted No. Also, Reid couldn't be certain conservative Senators wouldn't use the proceedings to foul up the Senate, with time running out on other major priorities.