Olbermann: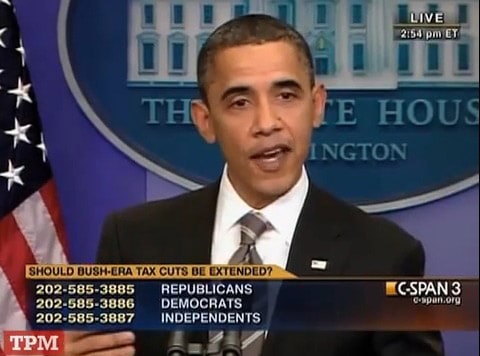 A testy press conference from President Obama in which he announced that he had made a deal with (caved to) Republicans on Bush-era tax cuts, signaled a distinct change from the progressive ideals that had marked his candidacy.
This is a big, diverse country. Not everybody agrees with us. I know that shocks people. You know, the New York Times editorial page does not permeate across all of America – neither does the Wall Street Journal editorial page. Most Americans, they're just trying to figure out how to go about their lives, and how can we make sure that our elected officials are looking out for us? And that means because it's a big, diverse country, and people have a lot of complicated positions, it means that in order to get stuff done we're gonna compromise.
This is why FDR, when he started Social Security, it only affected widows and orphans. You did not qualify. And yet now it is something that really helps a lot of people. When Medicare started it was a small program, it grew. Under the criteria that you just set out, each of those were betrayals of some abstract ideal.
This country was founded on compromise. I couldn't go through the front door of this country's founding. And you know if we were really thinking about ideal positions, we wouldn't have a Union.
House Democrats reacted swiftly, the HuffPost reports:
…they were already in agreement to an extent rarely seen on the left side of the lower chamber.
Across the board, Democrats who attended the meeting said, Obama's deal was deemed too costly, too tilted toward the rich and too much of a cave to Republicans.
"The wealthiest few in the country come out like gangbusters," said Rep. Earl Pomeroy (D-N.D.), a Blue Dog who said he would oppose the deal. Many other Blue Dogs, Pomeroy said, would also vote down the package, on the grounds that it adds heavily to the debt.
"Obama's advisers insist he didn't go out of his way to pick a fight with fellow Democrats when he cut his highly controversial deal with Republicans to temporarily extend all Bush-era tax cuts earlier this week. But if the deal served to distance Obama not only from them, but the entire partisan culture of Washington, all the better, they say. Differentiating Obama from congressional Democrats 'was a positive byproduct' of the tax cut deal, a person close to Obama told POLITICO. 'Compared to these guys, the president looks mature and pragmatic,' added the official."
The NYT reports that Biden and McConnell sealed the deal in a series of secret talks that may offer a look into the future:
According to those knowledgeable about the events that played out over less than a week, the agreement was the product of a fast-paced series of telephone contacts, conference calls and consultations with Congressional leaders. A critical negotiation on Sunday led to a surprise cut in employee payroll taxes as the men sought to wrap up the deal.
The final pieces came together Monday, when the vice president called Mr. McConnell to inform him of the White House's price for accepting the Republican plan to provide a generous exemption for taxing wealthy estates. Mr. McConnell called Mr. Biden back late in the day to deliver the Republican sign-off on the administration's proposed tax breaks for low- and middle-income workers.
The intense back and forth suggests a possible template for how the two parties might interact next year when Republicans control the House and have added to their numbers in the Senate.
Keith Olbermann ripped Obama in a special comment last night.
Watch Obama's press conference, and Olbermann's thrashing, AFTER THE JUMP…