A SFO-based pilot angered the TSA by exposing faults in its security at SFO in a series of YouTube videos. Four U.S. air marshals and two local sheriff's deputies paid a visit to the pilot at his home to force him to surrender the federally-issued gun he had been assigned as a flight deck officer in a test anti-terrorism program, the San Jose Mercury News reports: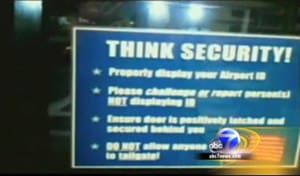 The pilot, a Sacramento-area resident in his 50s who has not released his name or airline, has been the target of a Transportation Security Administration probe since federal officials discovered the YouTube videos Nov. 30. The videos, which the pilot took with his cell phone, have since been taken down.
But snippets of the recordings the pilot gave to a Sacramento-area television station show that SFO workers on the ground are given access to passenger-restricted areas by swiping a security card. He claims their belongings and any cargo they are transporting are not checked, and there are no guards at the door.
"As you can see, airport security is kind of a farce," the pilot said in one video. "It's only smoke and mirrors so that you people believe there is actually something going on here."
Other footage shows him holding a large axlike weapon stored in the cockpit.
What do you think? How has your experience through security been this holiday? I had my first trip through an x-ray scanner. Didn't mind it. I thought the TSA people at Newark were suitably professional.
Watch the video, AFTER THE JUMP…