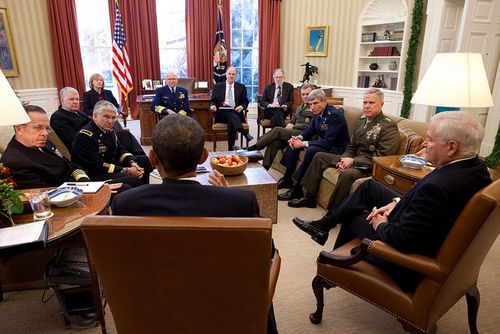 (Above, Obama meets the Joint Chiefs to discuss DADT on November 29, 2010 – Official White House photo by Pete Souza)
White House Press Secretary Robert Gibbs was asked about 'DADT' today. Gibbs told reporters that "certainly our hope is that the Senate will take this up again."
When asked about Obama's pledge to stay in town until the START treaty is done, and whether he might promised the same for DADT, Gibbs said,
"Let me be clear, the President isn't — if START gets done, the President and Congress is here, the President is not leaving.  I said earlier that the President will be here as long as the Congress is here…I think that we always envisioned it that if the Congress was here, the President would be here.  There's a whole host of important things beyond the tax agreement and START — 'don't ask, don't tell' being one of them — that the President believes can be dealt with before Congress leaves town."
Gibbs was also asked if there are other options on the table should DADT repeal fail legislatively:
"Well, I should say this.  I think it's a distinct possibility that 'don't ask, don't tell' will be repealed by the end of this year and that's where our effort is focused."
Watch, AFTER THE JUMP…