On Tuesday I mentioned that anti-gay pastor Scott Lively, who recently moved to Massachusetts and claimed he was retiring his anti-gay ways, had opened a coffee shop in the town of Springfield, and residents were concerned about Lively's past and the message he might be spreading to their kids.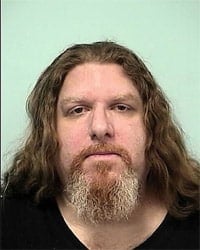 Now they have more reason to be concerned, because Lively is apparently hiring sex offenders to work there:
Police detectives on Thursday arrested Michael Frediani, 38, of 453 State St., for failing to register as a Level 2 sex offender in Springfield. He was living in an apartment above the coffee house.
He was being held at the Springfield police lock-up, said Sgt. John M. Delaney, a spokesman to Police Commissioner William J. Fitchet.
In New York, Frediani is listed as a Level 3 sex offender, defined as most likely to repeat an offense. Frediani had identified himself as "Michael Free," when he was interviewed last Friday by The Republican at the coffee house. At the time, Frediani said he was a "volunteer manager" at the coffee house, assisting the owner, controversial pastor Scott Lively.
Police arrested Frediani for failing to register as a sex offender. He was imprisoned for the abuse of a 10-year-old girl in 1995.
Said Frediani of his work at the coffee shop: "I talk to all the kids. We have a place that is safe. The presence of God is here right now. I invite God to touch them and he does."
Scary.