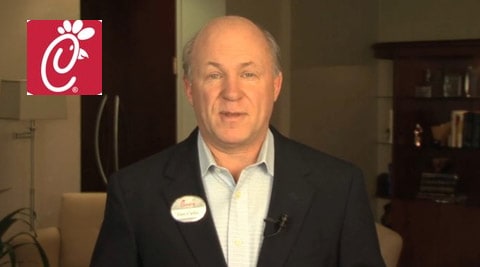 Chick-fil-A COO and President Dan Cathy released a video last night defending the company's principles of tolerance and acceptance for all following revelations last week that Chick-fil-A was co-sponsoring a marriage workshop run by Pennsylvania's most anti-gay group, the Pennsylvania Family Institute.
Without mentioning the word "gay", Cathy insists that Chick-fil-A welcomes all people, and that its work with the PFI was simply to provide food:
"Chick-fil-A serves all people and values all people. Providing food to these events or any event is not an endorsement of admission, political stance, or motives of this or any other organization. Any suggestion otherwise is just inaccurate."
However, as Jeremy Hooper pointed out last week, and points out again, the company's WinShape foundation is partnering with NOM's Ruth Institute. They also partnered with other "pro-family" groups on something called "The Marriage CoMission" which gathers anti-gay leaders from cities around the nation for a retreat every year at the WinShape foundation's Georgia headquarters to figure out ways to strengthen their movement.
Watch Cathy's statement, AFTER THE JUMP…
Dan Cathy Statement from Chick-fil-A on Vimeo.