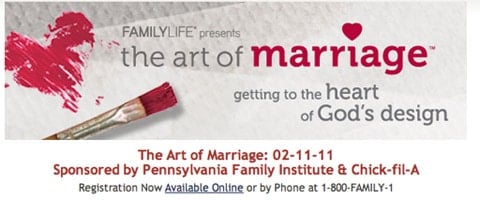 Chick-fil-A released the following statement with regard to its association with a "traditional marriage" conference run by Pennsylvania's most anti-gay group.
"To our Facebook community: First and foremost, thanks for your patience as we made sure we gathered the facts in regards to recent postings. We have determined that one of our independent Restaurant Operators in Pennsylvania was asked to provide sandwiches to two Art of Marriage video seminars. As our fans, you know we do our best to serve our local communities, and one of the ways we do that is by providing food to schools, colleges, civic groups, businesses, places of worship, not-for-profit groups, etc. At his discretion, the local Operator agreed to simply provide a limited amount of food. Our Chick-fil-A Operators and their employees try very hard every day to go the extra mile in serving ALL of our customers with honor, dignity and respect."
The Pennsyvania Family Institute accused gay blogs like Good As You of attacking Chick-fil-A for trying to be "good neighbors" to the PFI.
But Chick-fil-A's association with anti-gay groups go deeper than a weekend picnic in Pennsylvania. Jeremy Hooper explains that the company's WinShape foundation is partnering with NOM's Ruth Institute. They also partnered with other "pro-family" groups on something called "The Marriage CoMission" which gathers anti-gay leaders from cities around the nation for a retreat every year at the WinShape foundation's Georgia headquarters to figure out ways to strengthen their movement.