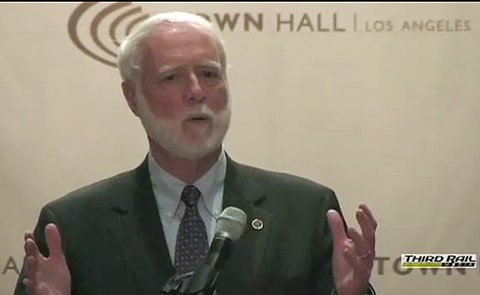 Secretary of the Smithsonian Institution Wayne Clough defends the removal of David Wojnarowicz video piece 'A Fire in My Belly' from the museum's Hide/Seek exhibit makes an unconvincing argument that its removal was intending to protect the exhibition rather than an act of censorship.
"I wouldn't characterize the decisions that people make regarding exhibits as 'censorship'. Basically what you're trying to do is to make a rational decision given the position we are in as a great public museum. I would say that we all make choices and every day anyone who develops an exhibit makes a choice about how best to engage people in the subject matter of the exhibition…All of us do that every day in our lives. We're not out to censor anything. Period."
If you recall, it was  a few hours of pressure from blowhard Bill Donohue of the Catholic League and various other wingnuts that inspired the censorship of the Wojnarowicz piece, which is a tribute to the artist's lover who died of AIDS conveyed via imagery which included Christ's suffering on the cross.
Watch Third Rail Media's informative piece including interviews with Clough, AFTER THE JUMP…