More concern over the conditions of Wikileaks soldier Bradley Manning, which has been called "torture" by Salon's Glenn Greenwald. Now, a psychologists group concurs: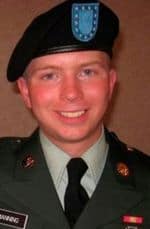 In the latest public pronouncements calling attention to Manning's plight, the Psychologists for Social Responsibility this week sent an open letter to Defense Secretary Robert Gates saying it is "deeply concerned" about Manning's confinement conditions at a military prison at Quantico, Va.
"As an organization of psychologists and other mental health professionals, PsySR is aware that solitary confinement can have severely deleterious effects on the psychological well-being of those subjected to it," the group said. "We therefore call for a revision in the conditions of PFC Manning's incarceration while he awaits trial, based on the exhaustive documentation and research that have determined that solitary confinement is, at the very least, a form of cruel, unusual and inhumane treatment in violation of U.S. law."
The letter deplores the "needless brutality" of Manning's conditions and says they undermine his right to a fair trial.
According to his lawyer, "Manning is confined in a 6-by-12-foot cell with a bed, a drinking fountain and a toilet for about 23 hours a day. On a " typical day," he is awakened at 5 a.m. and is not allowed to sleep between 5 a.m. and 8 p.m.; if he tries to sleep during those hours, guards will make him sit up or stand. He eats all his meals in his cell. He is allowed one hour of "exercise" daily outside his cell, consisting of walking in figure eights in an empty room, according to Coombs. When he goes to sleep, he is required to strip down to his boxer shorts and give his clothing to the guards. He is not allowed to have any personal items in his cell.
David House at FireDogLake, visited Manning, and agrees with the assessments above. Read his extensive report here.
Some have said that Manning's conditions are an effort to get him to name Julian Assange as a conspirator in order to get Assange on espionage charges.
Manning has not been convicted of any crime.