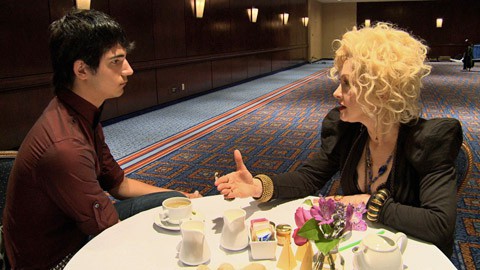 Tune in to MTV's Made today at 4 pm EST (repeating Wednesday at 3) for an episode about Eli Medina, a gay teen from Norman, Oklahoma who is living on his own after his mother rejected him for telling her he is gay.
If you've never seen Made, it's an Emmy-winning aspirational reality show about high school kids who want to transform themselves into something better. It's Eli's dream to be a "diva superstar". Unfortunately, he's too shy to sing in front of others. With the help of Cyndi Lauper and Made coach singer Jeremiah Abiah, Eli finds the strength to conquer his fears.
Lauper also asked Eli to participate in a video for her "We Give a Damn" organization which highlights LGBT issues in a series of web videos.
Check out two previous Made episodes about gay teens here and here.
Check out a couple preview clips, AFTER THE JUMP…