This morning i posted about LGBT activist David Kato, who was beaten to death in his home yesterday. 
Back in October, the Ugandan tabloid Rolling Stone published a list of '100 Top Homos' with the directions to "hang them" written on the cover. Kato's face appeared on the cover, and inside, and was named by the tabloid.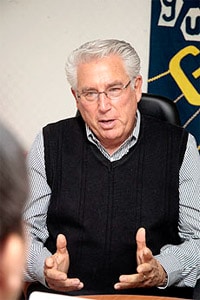 This followed months of prolonged debate over Ugandan MP David Bahati's 'kill the gays' bill, as well as visits from supportive American Evangelical pastors like Scott Lively, who traveled to Uganda to spread anti-gay hate in the name of religion, and then bragged afterward that he had delivered a "nuclear bomb against the gay agenda" there.
Now, those American evangelicals may have real blood on their hands, and what are they doing?
Claiming to be the victims, of course. The NYT:
On Thursday, Don Schmierer, one of the American evangelicals who visited in Uganda in 2009, said Mr. Kato's death was "horrible."
"Naturally, I don't want anyone killed but I don't feel I had anything to do with that," said Mr. Schmierer, who added that in Uganda he had focused on parenting skills. He also said that he had received threats and more than 600 hate mails related to his visit.
"I spoke to help people," he said, "and I'm getting bludgeoned from one end to the other."
Ugandan Gay Rights Activist is Beaten to Death [nyt]
UPDATE: Here's more on Scott Lively from Joe…