A gay couple on a hiking trip in rural British Columbia were attacked by a stranger while relaxing at a natural hot spring, leaving one of them nearly unconscious: "Unprovoked, he was viciously beaten as he begged for mercy."
Global Saskatoon reports: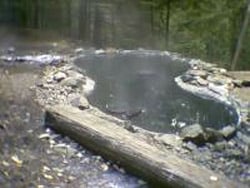 Police say the attack took place in a natural hot pool at St. Leon's Hot Springs 25 km north of Nakusp on Highway 23 on December 29th, 2010. The victim was relaxing in the hot pool with his companion, both men from Burnaby, when they were joined by two other men and a woman.
The man who identified himself as 'Terry' discovered the men were homosexual and allegedly told his friends he was going to kill them. As one man ran from the pool to hide, the other man was viciously beaten as he begged for mercy, suffering cuts and bruising to most of his body. He was left injured in the snow as the suspect and his two friends left on snow mobiles.
Arrow Lakes News adds:
…the assault left the victim virtually unconscious, and he couldn't remember what had happened other than waking up in the snow. His partner watched the incident from a nearby bush he was hiding in and described the assault to police.
"The biggest damage he's going to receive and the partner is the emotional, psychological trauma," Hill said. "To be beaten when you're out in the wilderness and left virtually unconscious takes its toll."
Police are looking for the assailant: "Terry is described as a Caucasian male standing at about 6 feet tall (180 cm), around 44-years-old with a stalky, muscular build. Police say he had defined muscles and has a short flat-top hairstyle. Police say the man has a tattoo of a bird silhouette on his chest that is about two-inches in diameter. Police believe the suspect is from Calgary and may have been visiting the Nakusp or Revelstoke area."
The attack happened in late December: "Police say they waited a month to go public with the story because they wanted to explore all other avenues of investigation.  Officers hope someone will recognize the suspect description and contact authorities."