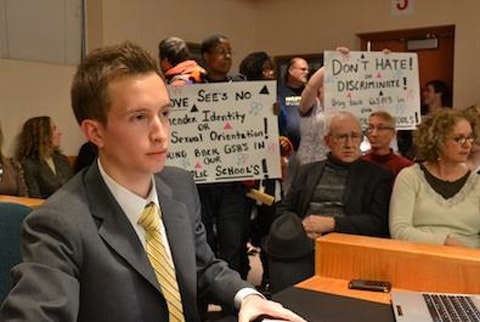 The ban on Gay-Straight alliances at Halton Catholic School, where controversy erupted earlier this year after board chair Alice Anne LeMay (pictured, below) compared GSAs to Nazi groups, has been lifted, Xtra reports: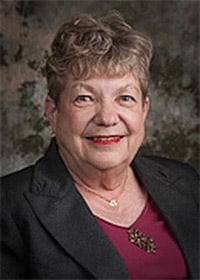 In a 6-2 vote, trustees have decided to rescind the ban and shelve the equity and inclusive education policy. While a new policy is drafted, the board will use the Catholic "template." The template is a version of Ontario's equity policy that's written specifically for English Catholic boards by the Ontario Education Services Corporation.
When asked by Xtra whether the board will allow groups to be called gay-straight alliance clubs, board chair Alice Anne LeMay refused to answer the question.
"I can't answer that tonight, the policy will go to senior administration and will be implemented in the schools," she says.
The Spec.com is reporting that the vote was 8-2.
Students and activists are demanding that the groups be called Gay-Straight Alliances, but the board is resisting:
Although the ban is now lifted, the HCDSB may follow suit with other Catholic school boards in Ontario and adopt a broad "diversity group" policy, creating space for anti-discrimination groups, which allow students to discuss a number of social justice issues, such as racism, sexism, poverty and homophobia.
Students says the banning of the word "gay" is extremely problematic:
Sarah Kelly, a master's of teaching student at the Ontario Institute for Studies in Education (OISE), who started the Facebook page "Fight the Halton Catholic Board's ban on Gay Straight Alliances," leads a group of students and activists making emotional pleas to trustees. 
"The fact remains one in three gay and lesbians will attempt suicide due to the damaging attitudes and policies such as this very ban," she told the board.