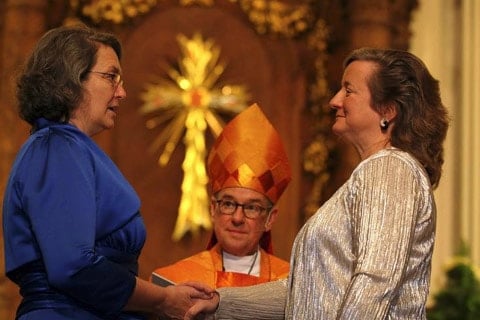 (image jo nevinslong – patriot ledger)
On New Year's Day, some history was being made in Massachusetts, the Patriot Ledger reports:
In a wedding that appears to be the first of its kind in the U.S. – at least in the Episcopal Church – former Plymouth priest the Rev. Mally Lloyd married the Rev. Katherine Ragsdale, dean and president of the Episcopal Divinity School in Cambridge, on New Year's Day. The Rev. Lloyd, a former pastor at Christ Church in Plymouth, is now a ranking official of the Episcopal Diocese of Massachusetts.
The Rev. Lloyd and the Rev. Ragsdale were married in a ceremony at the Cathedral Church of St. Paul in Boston, with about 400 guests attending. Bishop M. Thomas Shaw, the state's highest ranking Episcopal official, presided.
So far there has been no response from the conservative portion of the Anglican church.
A press release from the Episcopal Divinity School in Cambridge said the two women were introduced by a mutual friend in the summer of 2008.
That was a few months before the Rev. Lloyd was appointed canon to the ordinary – the diocese's chief operating officer – and about a year before the Rev. Ragsdale became the divinity school's dean and president.
During their New Year's Day ceremony, Bishop Shaw said: "God always rejoices when two people who love each other make a lifelong commitment in marriage to go deeper into the heart of God through each other. It's a profound pleasure for me to celebrate with God and my friends Katherine and Mally their marriage today."
Congrats to the couple.
Marriage of 2 lesbian Episcopal priests adds new twist to gay issues [patriot ledger]