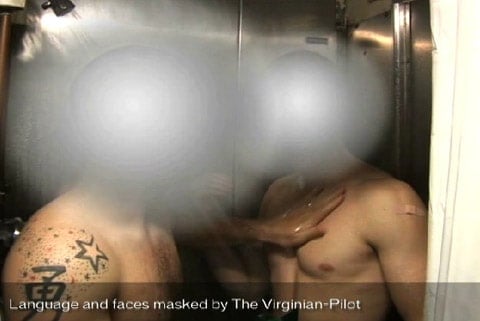 Captain Owen P. Honors Jr., the commander of the Norfolk-based USS Enterprise, produced and starred in a series of raunchy, sexist, anti-gay videos shot and edited with government equipment and broadcast to the ship's 6,000 sailors and Marines while the ship was deployed to Afghanistan and Iraq in 2006 and 2007, the Virginian-Pilot reports.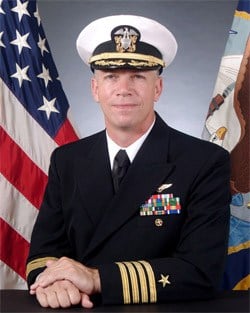 At the time, Honors was the ship's executive officer, or XO.
Watch the video, AFTER THE JUMP…
Some of the content in the videos included:
…a series of clips displaying Honors and other sailors, including officers, pretending to masturbate. It's set to a song called "Spank."
After that, the video returns to Honors. "Finally, let's get to my favorite topic — something foreign to the gay kid over there: chicks in the shower," he says.
He gestures to the person next to him — who, through a trick of video, is Honors wearing the blue coveralls of a Navy surface warfare officer, or SWO. SWOs include the officers who crew the ship; they don't include fighter pilots and other aviators. Repeatedly in the videos, Honors, a former Top Gun pilot, draws distinctions between aviators and SWOs and refers to SWOs as "fags."
The video then shows two female sailors pretending to shower together and two male sailors pretending to shower together. While the shots imply nudity, they don't show any; the men are filmed from the waist up and the women from their shoulders.
"The Enterprise, the world's first nuclear-powered aircraft carrier, is set to deploy overseas this month. The videos raise serious questions about Honors' judgment, especially while the carrier is under way, said another sailor, an officer aboard the Enterprise who was also there when the videos were being shown. 'When the ship pulls away from that pier, he's it,' the officer said. 'To me, that's scary.'"
The Navy released an initial statement in response to the videos: 
"The videos created onboard USS Enterprise in 2006-2007 were not created with the intent to offend anyone. The videos were intended to be humorous skits focusing the crew's attention on specific issues such as port visits, traffic safety, water conservation, ship cleanliness, etc."
But now says it is investigating:
The navy says the videos are "clearly inappropriate" and it is investigating the circumstances surrounding the production of the videos.
Honors and his then-commanding officer Larry Rice have not responded to requests for comment.
Watch the video, AFTER THE JUMP…