Kameron Jacobsen, 14, of Monroe Woodbury High School took his own life this week, and many are pointing to anti-gay taunting as the catalyst. To compound the school's grief, another student a junior on the football team, took his own life less than two weeks ago. 
MyFOX NY reports: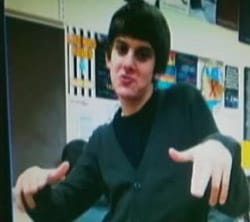 Sources said that Kameron Jacobsen of Monroe Woodbury High School was tormented by Facebook bullies who taunted him about what they thought was his sexual orientation.
His fellow students and parents are devastated. 
Facebook issued a statement about the incidents: "We are deeply saddened by the tragic deaths of these students, and our hearts go out to their family and friends. These cases serve as a painful reminder of how people can help others who are either bullied or show signs of distress on Facebook. We encourage them to notify us, and we work with third party support groups including the National Suicide Prevention Lifeline to reach out to people who may need help. Our Safety Center also contains resources on how to help people who are in danger of harming themselves. These deaths are a loss to many, and it's critical that we all work together to give hope to teens who may be feeling similarly."
Watch, AFTER THE JUMP…
Sources: Teenager Kills Himself After Facebook Taunts: MyFoxNY.com