Straight ally, Jason Mraz, who recently revealed he was a former bully victim in high school, continues to be a a vocal advocate for marriage equality.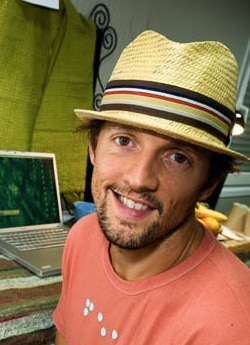 Us Magazine reports on his decision to hold off on marriage until all of us are legally allowed to marry:
 "We both feel that in our engagement, we have a union that's really special and cant be broken. It's a sacred bond," the singer explained at Elton John's Concert to Benefit the American Foundation for Equal Rights in Beverly Hills Wednesday.

"The wedding would be nice for our family, our friends, our community — our moms especially — and so it puts us in the fight," he continued. "We can't get married until [gay] marriage is legal and equal…I think giving people the right to marry will be a huge movement in civil rights."
Mraz made the comments at a fundraiser, hosted by Elton John at billionaire Ron Burkle's estate in Californa, in support of the challenge of Prop 8. They managed to raise a robust $3 million for the American Foundation for Equal Rights.
Watch Mraz, as well as Jane Lynch and Adam Lambert, discuss marriage equality, AFTER THE JUMP.