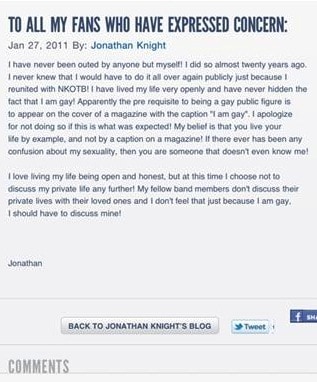 Jonathan Knight took to the NKOTB blog today (you'll need to fork over $39.95 to access it yourself) to address his recent so-called "outing" by pop star Tiffany and officially announce to the public that he is gay.
"I have never been outed by anyone but myself! I did so almost twenty years ago. I never know that I would have to do it all over again publicly just because I reunited with NKOTB! I have lived my life very openly and have never hidden the fact that I am gay! Apparently the pre requiste to being a gay public figure is to appear on the cover of a magazine with the caption "I am gay". I apologize for not doing so if this is what was expected! My belief is that you live your life by example, and not by a caption on a magazine! If there ever has been any confusion about my sexuality, then you are someone that doesn't even know me!"
"I love living my life being open and honest, but at this time I choose not to discuss my private life any further! My fellow band members don't discuss their private lives with their loved ones and I don't feel that just because I am gay, I should have to discuss mine!"
A screencap of his blog post (thanks, Kevin) is AFTER THE JUMP.
Back in 2009, an ex-boyfriend of Knight's told the National Enquirer that he had dated the boy band member.
Watch a short, recent interview with Knight, wherein he talks about his non-musical career in real estate,