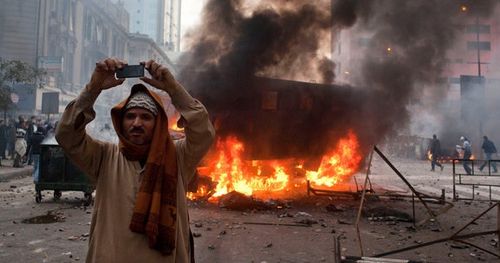 In his Egypt roundup yesterday, Andy linked to a graph that showed the dramatic and "unprecedented" cutoff of the Internet by the government in that turmoil-engulfed country. As you have heard by now, protesters organized demonstrations by heavily utilizing both Twitter and Facebook. CNN is reporting that even though the Internet is unavailable in Egypt, the mobile networks are working intermittently and are allowing people in Egypt to occasionally sneak out a tweet or two.
The NY Times has today published a piece about how effective these web tools can been be for both protesters and certain governments such as those of places Egypt, Tunisia and China:
"There's nothing deterministic about these tools — Gutenberg's press, or fax machines or Facebook," Ms. Brown said. "They can be used to promote human rights or to undermine human rights." This is the point of Mr. Morozov, 26, a visiting scholar at Stanford. In "The Net Delusion," he presents an answer to the "cyberutopians" who assume that the Internet inevitably fuels democracy. He coined the term "spinternet" to capture the spin applied to the Web by governments that are beginning to master it.

In China, Mr. Morozov said, thousands of commentators are trained and paid — hence their nickname, the 50-Cent Party — to post pro-government comments on the Web and steer online opinion away from criticism of the Communist Party. In Venezuela, President Hugo Chávez, after first denouncing hostile Twitter comments as "terrorism," created his own Twitter feed — an entertaining mix of politics and self-promotion that now has 1.2 million followers.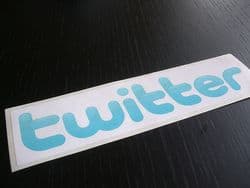 Meanwhile, writing that "the open exchange of information can have a positive global impact," Twitter has indirectly responded to its impact in the recent demonstrations in Northern Africa in a post on their official blog:
"Our goal is to instantly connect people everywhere to what is most meaningful to them. For this to happen, freedom of expression is essential. Some Tweets may facilitate positive change in a repressed country, some make us laugh, some make us think, some downright anger a vast majority of users. We don't always agree with the things people choose to tweet, but we keep the information flowing irrespective of any view we may have about the content."
Today Egyptian President Hosni Mubarak essentially fired his entire cabinet by asking them to resign. He has since chosen a vice president for the first time in his 30-year presidency and also appointed former chief of air staff Ahmad Shafiq as prime minister. But this doesn't seem to have much of an impact on the demonstrations as protesters continue to defy the government-imposed curfew.
Personally, it's looking like my long-planned trip to Egypt next month won't be happening after all. Time to think of a back-up.
Watch a powerful montage of the protests thus far, AFTER THE JUMP.