International Vanity Fair editors Ingrid Sischy and Sandra Brant are reportedly godparents to Elton John andd David Furnish's boy Zachary, the Daily Mail reports: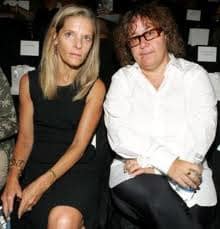 'Ingrid has been best friends with both Elton and his partner David Furnish for years. They holiday in Africa together every year and they all spent Christmas in Los Angeles together. 
'Ingrid and Sandy are two of the most genuine people they know. They were among a handful of people Elton entrusted with the details of the surrogate pregnancy.
'Zachary means everything to Elton and David and they have chosen Ingrid and Sandy as godmothers for the traditional reason: to take care of the child's welfare in case something happens to them.'
The paper reports that there is a possiblity more than one pair of godparents will be chosen.