Mark Kelly, husband of Congresswoman Giffords, released his first statement on the tragedy last night: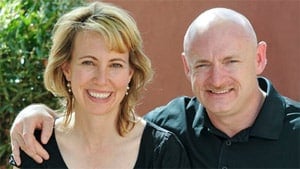 On behalf of Gabby and our entire family, I want to extend our heartfelt gratitude to the people of Arizona and this great nation for their unbelievable outpouring of support. Gabby was doing what she loved most — hearing from her constituents — when this tragedy occurred. Serving Southern Arizonans is her passion, and nothing makes her more proud than representing them in Congress.
Like all Americans, we mourn the loss of Judge John M. Roll, Christina Taylor Green, Dorothy Morris, Phyllis Schneck, Dorwan Stoddard and Gabe Zimmerman, a fine man and beloved member of Gabby's team. We must never forget them, and our prayers are with their families. Our hearts go out to everyone injured yesterday; we hope and pray for their quick recovery. We also extend our thanks and appreciation to all of the first responders, medical personnel, law enforcement, and Arizona citizens who acted swiftly on Saturday and continue to assist our community through this tragedy. Many stories of heroism are emerging, and they are a source of strength for us during this difficult time. We are forever grateful.
Many of you have offered help. There is little that we can do but pray for those who are struggling. If you are inspired to make a positive gesture, consider two organizations that Gabby has long valued and supported: Tucson's Community Food Bank and the American Red Cross.
Community Food Bank
3003 S Country Club Rd # 221
Tucson, AZ 85713-4084
(520) 622-0525
American Red Cross, Southern Arizona Chapter
2916 East Broadway Boulevard
Tucson, AZ 85716
(520) 318-6740
President Obama will lead a moment of silence today at 11 am for the victims of the shooting on the South Lawn of the White House. Said Obama: "It will be a time for us to come together as a nation in prayer or reflection, keeping the victims and their families closely at heart."