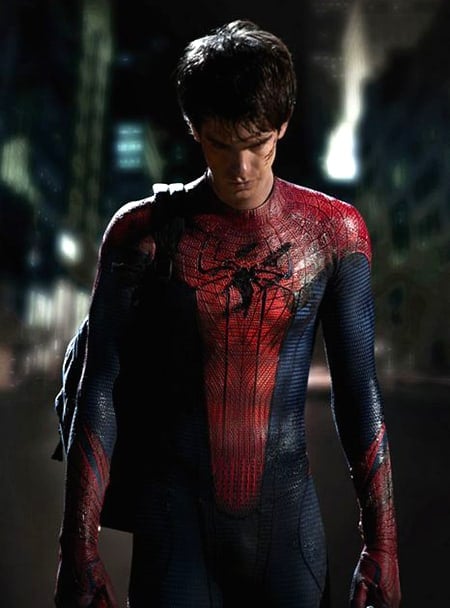 You like? The reboot of Spider-Man opens in a year and a half.
Oh…AWARDS SHOWS!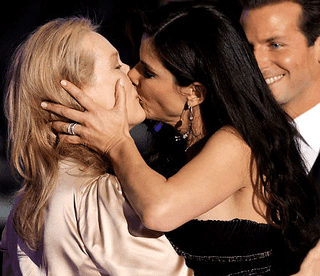 Tonight is the BFCA Critics Choice Awards broadcast on VH1 in which the BFCA tries to predict the Oscar winners. (Full disclosure: I'm a member but their obsession with Oscar prediction makes me crazy. Just vote on what you think is best.) You'll remember that last year they famously declared a tie between Sandra Bullock (The Blind Side) and Meryl Streep (Julie & Julia) so as to hedge their bets.
They'll be hard pressed to come up with anything as memorable as the Streep/Bullock comedy because not many nominees are entertaining without a script as Meryl & Sandra.
I'm rooting for The Social Network, Black Swan, The Fighter, Blue Valentine, The Kids Are All Right and the stunning I Am Love in various categories as they're on my top ten list.
Who are you rooting for?

Sunday night is THE GOLDEN GLOBES, the awesomely enduring Oscar warm-up. It's usually the most fun with the stars generally imbibing with abandon. Try this drinking game for your own viewing if you dare…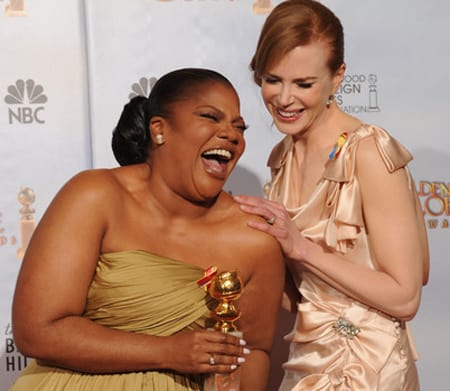 Mo'Nique and Nicole Kidman backstage this time last year.
Drink every time…
Someone makes a Black Swan joke.
Someone makes a Facebook joke.
Cher licks her lips.
Every time a presenter arrives that has absolutely no business being there other than as shameful attempt at attracting young viewers who won't be watching anyway. (Justin Beiber et. al)
When "Miss Golden Globe" is introduced.
Another swig if she's totally awkward about it. Having celebrity parents is SO mortifying!
You spot a closeted gay. (Kevin Spacey et. al)
You spot an out gay. (Jane Lynch et. al)
Every time there's a group shot of the Glee table.
Every time there's a closeup reaction shot of someone who clearly did not get Ricky Gervais's joke. (Even if they're laughing)
You see two celebrities you'd otherwise never see together sharing a table. (The seating arrangements are so bent sometimes.)
Two celebrities are nominated against each other who ought never to be mentioned in the same sentence (Judi Dench vs. Jennifer Love Hewitt for example. No really: They

are

nominated in the same category!)
A winner is announced. Keeping chugging until they make it to the stage!
Good luck! You'll be drunk before the stars are. Happy Awards Weekend.