Marriage Equality will soon be back on New York's burner, the NYDN reports: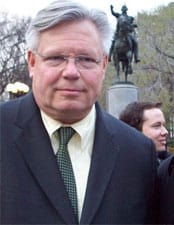 Sen. Thomas Duane (D-Manhattan, pictured), the Senate's biggest booster of gay marriage, said he'll introduce legislation "within weeks" to legalize same-sex marriage – and will push for a vote before the end of June. "I think everyone is aware that we have to make the lives of New Yorkers better in every way – economically, as well as to provide equality to New York families," Duane said Monday.
Although a similar bill was soundly defeated in the Senate in 2009, Duane and other supporters believe Gov. Cuomo's support can finally tilt the political landscape. Cuomo, whose favorable rating reached a soaring 70% in this week's Siena poll, called for the legalization of gay marriage in his State of the State address earlier this month.
Yesterday, Cuomo's office announced the hiring of Erik Bottcher, a former liaison to the gay community for NYC Council Speaker Christine Quinn. The newly created cabinet post of special assistant for community affairs, which Bottcher will fill, is seen as a signal of Cuomo's intentions to push marriage equality in the coming months.