Peruvian Catholic Bishop Luis Bambaren has apologized for remarks he made when asked about a civil unions proposal in that nation.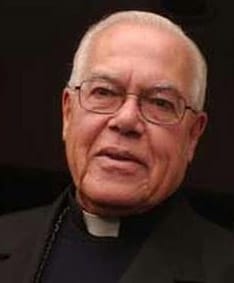 Said Bambaren: "Why is there so much talk about gay, gay, gay? … Faggots – that's how it's said, right?"
Civil unions for gays and lesbians are being discussed in Peru after a candidate for VP there said he would support such a measure, the Herald Sun reports:
"Bambaren's claim to call gay people faggots is totally inacceptable and constitutes an incitement to hatred," group head Christian Olivera said in a statement.
"In a country where we should all see ourselves as equals, Bambaren is encouraging violence by using a term that represents what is disgusting and perverse. Despising a community is not an example of what one supposes are Christian values."
Bambaren later (sort of) apologized: "I ask for an apology for everyone who felt offended. It is an offensive word, and (homosexuals) deserve respect."