New poll numbers acquired by the Huffington Post appear to show that even before DADT repeal, LGBTs were willing to put their support behind Obama at a higher rate than the public at large: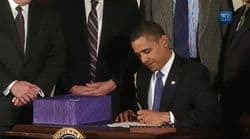 In an October survey conducted by Greenberg Quinlan Rosner Research, 64 percent of self-described LGBT community members said they approved or strongly approved of the way Obama was handling his job. While only 30 percent of all likely voters said the country was headed in the right direction (62 percent said the opposite), 46 percent of LGBT respondents answered "right direction" (49 percent said "wrong direction").
The poll numbers, which had not been previously released, were sent to The Huffington Post on the condition that the full survey not be published. The high-ranking LBGT operative who passed the numbers along cited them as evidence that the gay community was not disaffected with the president prior to November's midterm elections and that they would not lose patience with Obama even if he fails to persuade Congress to move major agenda items in the years ahead.
According to the HuffPo, "The survey polled 1,077 self-described members of the LGBT community, half by phone and half online."