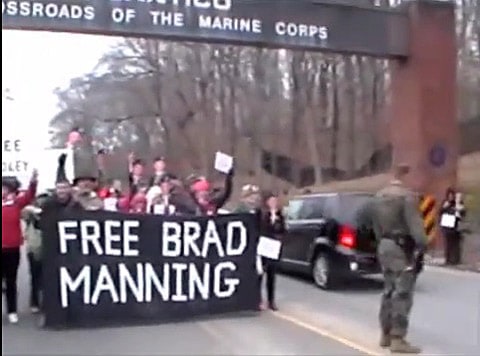 Approximately 150 activists, some with the group Code Pink, rallied on Monday outside the Marine base at Quantico, Virginia where Wikileaks soldier Army Private Bradley Manning is being held.
Said Quantico spokesman 1st Lieutenant Scott Villiard."They're exercising their First Amendment rights that the Marines that are standing here are sworn to uphold and defend and that falls under the Constitution. Good on them. They've got their beliefs. They should be able to express those beliefs. At the same time, we have responsibilities, and as long as they continue to exercise their free speech rights in a peaceful manner then everything will work out."
The protest follows weeks of concern and accusations of torture over Manning's incarceration.
Watch, AFTER THE JUMP…