Martin Gill and his sons are finally a family in the eyes of the law: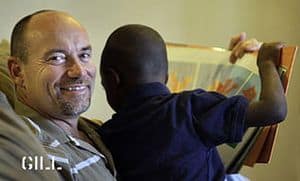 "After a successful fight to overturn Florida's ban on gay people serving as adoptive parents, the two young brothers adopted by Martin Gill participated in an adoption ceremony in Judge Cindy Lederman's chambers in Miami-Dade County Juvenile Court today, marking the final step in their adoption process. Gill and his partner had served as foster parents to the two brothers for six years. Gill worked with the American Civil Liberties Union to fight for the right to adopt them by challenging Florida's 33-year-old ban on gay people adopting. As a result of the ACLU lawsuit on behalf of Gill, the ban was ended last year."
Said Leslie Cooper, staff attorney with the ACLU Lesbian, Gay, Bisexual and Transgender Project: "Martin and his family were instrumental in ending one of the most discriminatory laws in the country. Hopefully now, thousands of children in Florida who are waiting to be adopted will be able to know the love and support of having a family."
Congratulations!