Newsweek writer Ramin Setoodeh, who claims he was labeled such a "traitor" following his article suggesting that gay actors can't play straight that he couldn't "walk through New York's gay neighborhoods without causing a stir," revisited Promises, Promises ("afraid somebody would call the GLAAD police if I were spotted") and had a revelation, he writes, in The Daily Beast:
I realized that I had been all wrong.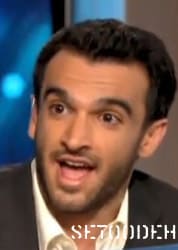 It's not just that audiences don't often see openly gay actors in straight roles. What's even more unsettling is that Hollywood doesn't even allow gay actors to play gay. With the film industry swept up in the congratulatory swirl of awards season, not a single openly gay actor is up for an Oscar nomination. Of course, that's probably because no openly gay actors even starred in any big films of 2010. The lovable lesbian wives in The Kids Are All Right were played by the heterosexual actresses Annette Bening and Julianne Moore. The quirky couple in I Love You Phillip Morriswere portrayed by straight men Jim Carrey and Ewan McGregor.
Setoodeh agrees with Rupert Everett, who claims he was shut out of roles after he came out, offering a laundry list of straight actors — Stanley Tucci, Eric Dane and Bradley Cooper, Jake Gyllenhaal, Greg Kinnear, Philip Seymour Hoffman, Sean Penn, Hilary Swank, Charlize Theron, Tom Hanks, and Robin Willians — who have played gay roles.
Setoodeh's argument:
"The rationale for these casting decisions is a Catch-22. You could argue that no one gay is on the A-list, so Hollywood has to hire straight people to fill those roles. But it also has to do with something else. Society still shows a prejudice against gay people, especially those who fit the stereotype: feminine men and masculine women. If you're willing to hide your sexuality, that's another story."
He stands by his gay-straight claims about Promises, Promises, adding: "You know what Promises, Promises really needed? Something that would have revived this worn-out revival—a leading man for Sean Hayes."