White House Press Secretary Robert Gibbs was asked today by Chris Johnson of the Washington Blade about the Justice Department's Defense of DOMA, and if there was any chance that the administration might drop the defense and declare it unconstitutional.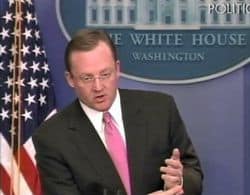 Said Gibbs: 
"Well, we can't declare the law unconstitutional. … Obviously if you look at what was written, the president enumerates in there … our belief on this law as we balance the obligation that we have to represent the federal government; the president believes as you said that this is a law that should not exist and should be repealed but at the same time we have to represent the viewpoint of the federal government."
Gibbs added that, given the current make-up of Congress, legislative repeal would be "inordinately challenging" when asked if it would happen during the Obama administration.
Gibbs also said he was "unaware" of any plans to mention it, or marriage equality during the upcoming State of the Union Address.
Watch the clip, AFTER THE JUMP…