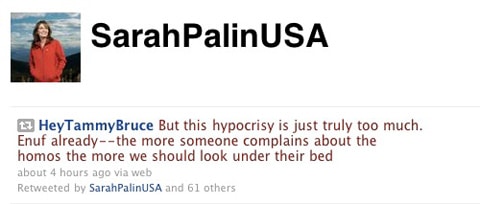 Sarah Palin raised a few eyebrows last week when she retweeted a tweet from conservative commentator and GOProud board member Tammy Bruce, which was the second part of a supportive tweet on 'DADT' repeal.
Bruce's preceding tweet said, "I'm focused on economic issues, and you may have noticed I was being quiet about DADT because that's not our most pressing issue…"
So, is Palin suggesting that John McCain and all the other vociferously homophobic GOP Senators have something to hide?
It's not Palin's first comment on the issue.
Back in February, when asked about 'DADT' repeal on Fox News Sunday, she said:
"I don't think so right now. I'm surprised that the President spent time on that in his State of the Union speech when he spent only about 9 percent of his time in the State of the Union on national security issues. And I say that because there are other things to be worried about right now with the military. I think that…kind of on the back burner, is sufficient for now. To put so much time, and effort, and politics into it, unnecessary."
Watch, AFTER THE JUMP…