Evangelical wing-nut Scott Lively, who has in the past marched in anti-gay demonstrations in Uganda, is now reacting to David Kato's tragic murder earlier this week. As you know, Kato's name and face appeared on the front page of the tabloid Rolling Stone's infamous "hang them" issue and Kato himself said that this had made him begin to fear for his life. despite all this, Lively would like everyone to belive that Kato may have been killed by a lover: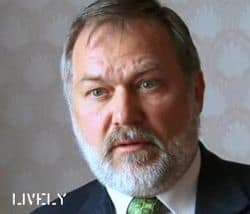 "Instead, Lively suggested Kato may have been killed by someone with whom he had been romantically involved, despite the fact that no one familiar with the case has suggested Kato was killed by a gay person, let alone someone with whom he had had a sexual relationship. There remains a 'possibility' Kato was "killed by a 'gay' lover,' Lively wrote, and likened Kato's death to that of Carlos Castro, a Portuguese journalist who was allegedly beaten to death and castrated by a male model in New York City earlier this month. The link between Kato and Castro — besides the fact that they were both openly gay men who had been brutally murdered — is unclear. But Lively has linked homosexuality to violence in the past. In his book Pink Swastika, Lively blames Nazi violence on homosexuality."
Sounds like Lively has decided to take the same position as pastor Don Schmierer who, on the day after Kato's murder, said he did not believe his anti-gay teachings in Uganda contributed to a hateful enviornment that led to the activist's death.